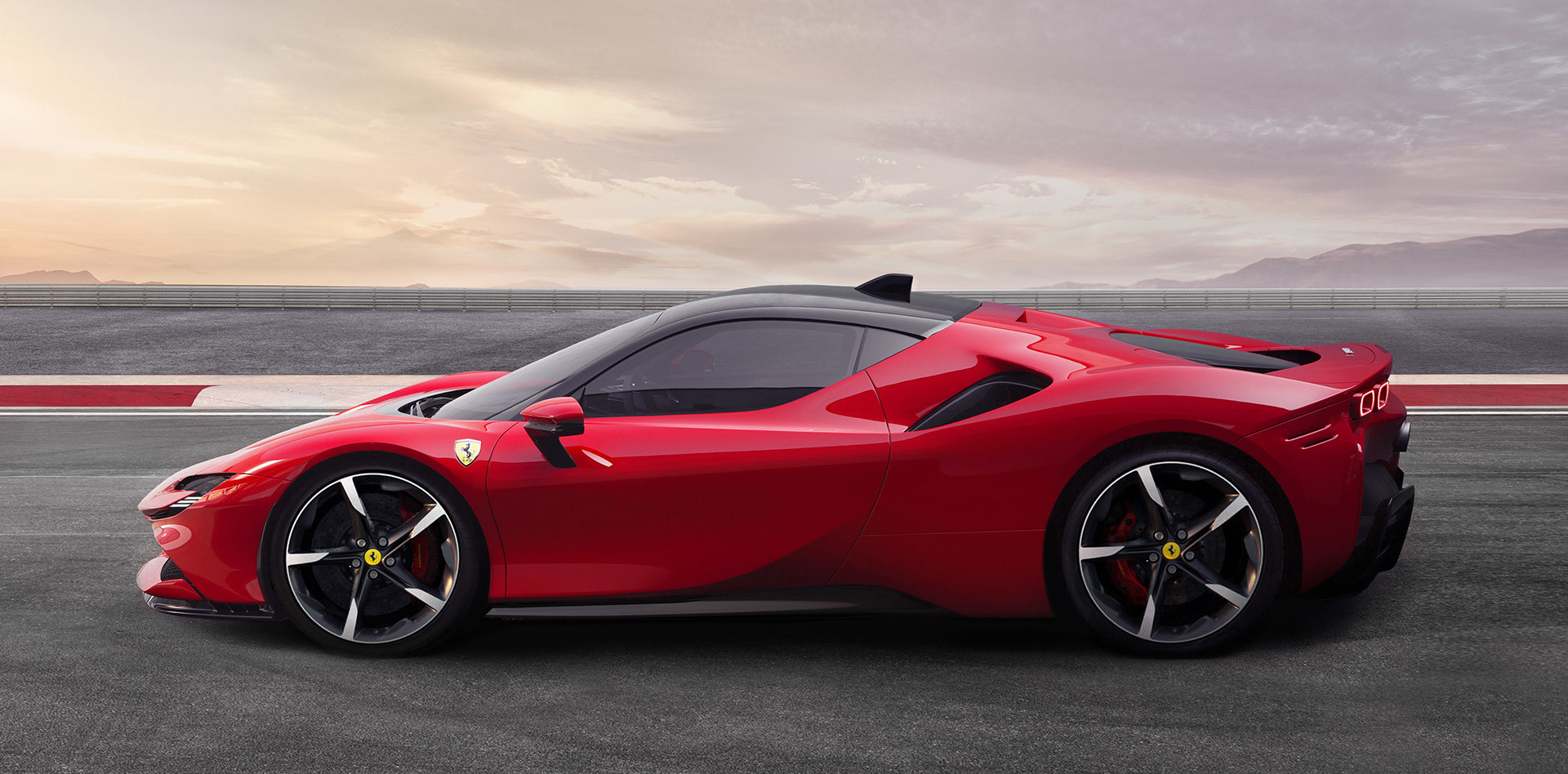 SF90 Stradale: The New Series-Production Supercar
The car's name encapsulates the true significance of all that has been achieved in terms of performance. The reference to the 90th anniversary of the foundation of Scuderia Ferrari underscores the strong link that has always existed between Ferrari's track and road cars. A brilliant encapsulation of the most advanced technologies developed in Maranello, the SF90 Stradale is also the perfect demonstration of how Ferrari immediately transitions the knowledge and skills it acquires in competition to its production cars.
ORDER
A Closer Look Into the SF90 Stradale
Interior
Exterior
Powertrain
Ferrari Financial Services
7 Yr. Maintenance
Ferrari's first series production supercar is not only the more powerful, but also the most technologically advanced. The F1-style cockpit in the SF90 Stradale is complete with a 16" HD digital central instrument cluster that is curved. Simplified touch controls on the steering wheel and a redesigned layout allow the driver to maintain the "eyes-on-the-road, hands-on-the-wheel" philosophy. Many new adjustments behind the wheel are directly derived from Formula 1 in order to enhance driver safety experience. The Head Up Display allows data to be projected onto the windshield to not distract the driver. All the futuristic technology in the cockpit beautifully balances the modern styling of the iconic classic gear lever gate.
The beautifully proportioned SF90 Stradale has low center of gravity allowing for sleeker volumes. Optimized aerodynamics on the SF90 Stradale have further reduced drag and increased downforce. Taillights have been redesigned to better suit the ground hugging exterior design and new headlights improve visibility through active beam control. Race loving drivers can choose the Assetto Fiorano package, with more sports-oriented options, including carbon fiber rear spoiler, sleek wheels, and an overall weight reduction.
The Ferrari engineers have made over 50 innovations to the new SF90 Stradale. Notably the acclaimed innovations include: the first plug-in hybrid Ferrari, 4WD, increased aerodynamics, HMI display, and an eManettino with 4 driving modes. E-drive mode is ideal for city driving or maneuvering at low speeds without using the V8 engine. The default, Hybrid mode optimizes internal combustion engine efficiency to guarantee maximum performance. Performance mode keeps the ICE running to ensure that power is instantly available for supreme driving pleasure. Qualify mode prioritizes performance, allowing the ICE and the electric motors to work in synergy to generate a whopping 1000hp.
Ferrari Financial Services offers Ferrari clients a wide range of personalized, flexible financial programs designed to facilitate the purchase or lease of all types of Ferraris, from the current new Ferrari model range to pre-owned Ferrari up to Formula 1 single-seaters and Classiche, Vintage Ferrari. With immediate access to current market dynamics and exclusive factory resources, FFS offers Ad-hoc financial services otherwise difficult to obtain through traditional channels.
Lease Programs - With Ferrari Financial Services, leasing a Ferrari has never been smarter or easier. Lease terms range from 13 to 60 months and offer multiple mileage options depending upon your driving desires.
Finance Programs - Retail installment programs (conventional or balloon) are designed to make your Ferrari purchase a dream come true. This option is ideal for anyone who wishes to experience the unparalleled feeling of Ferrari ownership, without significant out of pocket expense at the time of purchase. Whether financing a new or pre-owned Ferrari, our specialized products are designed to complement vehicles that retain their value and collectability over time, regardless of price or model year.
Financing for Vintage - FerrariSelect provides collectors of vintage Ferrari vehicles a personalized line of credit designed with the dedicated collector in mind. It is designed for Ferrari owners interested in utilizing the equity in their Ferrari collection, whether their goal is to acquire additional classic Ferraris or simply to provide liquidity for other business ventures. Credit lines begin at a minimum of $500,000 with a maximum line contingent upon the value of each individual collection.
- FerrariDirect was developed to provide collectors a unique financing option, offering flexible contract terms, competitive financing rates and loans without origination or early termination fees.
All applications submitted to Ferrari Financial Services are subject to credit review and approval.
CONTACT
Clients purchasing or leasing a new Ferrari California T, 488 GTB, FF, GTC4Lusso or F12berlinetta via the authorized dealership network will receive complimentary scheduled maintenance for the first seven years of the vehicle's life. The Genuine Maintenance program is effective from the start date of the new car limited warranty issued by Ferrari, as indicated in the warranty and Service Booklet and extends to any subsequent owner within the seven years. It covers the scheduled maintenance labor along with the relative original spare parts, engine oil and brake fluid.Genuine Maintenance program is unique- this is the first time a vehicle manufacturer offers such coverage worldwide with reassurance that the vehicle will be subject to regular annual inspections by Ferrari trained personnel using Factory-approved dedicated diagnostic equipment.Like any Program, there are corporate guidelines we need to follow which we are describing below for your convenience.Ferrari 7-Year Genuine Maintenance is available at Ferrari Beverly Hills. Please contact our Service Manager for any questions.
FERRARI 7-YEAR MAINTENANCE PROGRAM GUIDELINES
The plan is effective from the start date of the new car limited warranty issued by Ferrari and is due every year on this date or 12,500 miles.The Service plan aims to check your Ferrari performance at intervals of either 1 year or every 12,500 miles. Maintenance intervals must be strictly observed to help ensure a consistent service history and to keep the vehicle in proper working order.As per Ferrari North America guidelines, please be advised that if the maintenance package service is not performed during the guidelines stated above, it can no longer be performed free of charge for that selected interval.For more information about Ferrari 7-Year Maintenance, please contact our Ferrari Service Specialists.
SCHEDULE SERVICE
Technical Specifications
8-speed F1 Dual-Clutch gearbox
RAC-E front electric axle with two independent electric machines, MGUK electric machine, High-voltage Battery, ICE
* With 98 octane-rated petrol and dynamic ram effect. Engine power is expressed in kW, in accordance with the International System of Units (SI) and in CV (1KW=1.3596216 cv).
* With 98 octane-rated petrol and dynamic ram effect. Engine power is expressed in kW, in accordance with the International System of Units (SI) and in CV (1KW=1.3596216 cv).