A Fashionable High
Tea with Ferrari Beverly Hills


Beverly Hills, CA – On Tuesday, July 12th, Ferrari Beverly Hills hosted its 2nd Annual Ferrari & Fashion Event to unveil Olaya Beach Swimwear's 2017 Collection. Courtesy of JonathanNash & Hilton & Hyland, the social affair was held in one of the most beautiful and breathtaking private estates, located at 1251 Tower Grove Dr in Beverly Hills, that hosted the Reagan family and boasts the largest walking closet in the market.
The gathering was a very exclusive affair, limited to only 50 ladies. Guests were able to enjoy a beautiful atmosphere in the heart of Beverly Hills with a delicious afternoon tea provided by Crateful LA, an innovative catering service helmed by Michelin Star Chef Cristina Bowerman. Bubbly drinks were provided by the Ferrari Beverly Hills Racing Team, Scuderia Corsa's sponsor, the Italian prosecco maker Zonin 1821.

Lining the living room was a dazzling display of diamonds from renowned jeweler, Mark Broumand. Rings, necklaces and bracelets were on hand to showcase the unique world of bespoke jewelry.
Dr. Ali Sadrieh offered on-site foot consultations to the guests and the best choices they can make for fashion and athletic foot wear.

The Olaya Beach Swimwear fashion show started at 5pm, the closet doors opened, bringing guests to the most intimate and unique runway in fashion history. Music by DJ Sandra Luesse filled the large wardrobe with an exciting summer vibe, as models strut around the room with flair. Blacks, polka dots, greens, blues, and a grand finale in white, coordinated by the designer — former Miss Ecuador Clio Olaya.

Guests were treated to gifts from – Cryo Healthcare, Vitamin Vapor, Dr. Spray, Sugarfina, Crateful, Evo Foot, and Olaya Beach.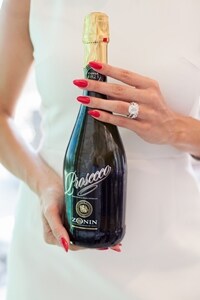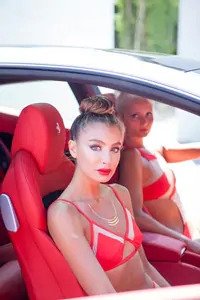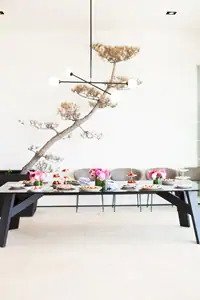 Photo Credit: Stephanie Godfrey Photography
Missed the event and curious to see more? Check full photo gallery here.

—

About Olaya Beach Swimwear

The Olaya Beach brand is synonymous of simplicity and true luxury. It's a swimsuit of impeccable quality that fits like a second skin. Inspired by the endless beaches of Esmeraldas, designer Clio Olaya brings a new line where shape, feel and sensuality are superlative in every collection. Using only innovative and comfortable fabrics, along with attention to high quality finishes and hardware, Olaya Beach exemplifies the true luxury swimwear collection that is simple, yet elegant, and always classic. Olaya Beach Swimwear is proudly made in Beverly Hills.

About Evo Foot

Dr. Ali Sadrieh, via his practice Evo Advanced Foot Surgery, is America's innovative foot and ankle surgeon, who is credited with developing the field of Aesthetic Foot Surgery. Seeing the need to reinvent traditional foot surgeries, he dedicated his time to learning techniques from a variety of fields (plastic surgery, reconstructive techniques) so that he was able to create and patent four new procedures that are designed to liberate the patients by providing a shorter, modern recovery experience with aesthetic results. Today, he treats everyone from professional athletes, well known celebrities, leaders of Fortune 500 companies, along with moms who need to keep up with their kids. His procedures have been featured on The Doctor's, The New York Times, Wall Street Journal, Elle, Vogue and many more.

About Mark Broumand

Bespoke diamond
engagement rings and fine jewelry handmade in Los Angeles. Each piece we create is a product of labor and skill that is fueled by a dedication to design and craftsmanship.

About Hilton & Hyland

Beverly Hills based Hilton & Hyland was established in 1993 as a boutique real estate firm to provide extremely personalized service to buyers and sellers of luxury properties. Founders Rick Hilton, grandson of the famous hotel developer, and Jeff Hyland, one of the most recognizable figures in Los Angeles real estate, have built their company from the ground up. Hilton & Hyland is the Founding Member of Christie's International Real Estate and is the exclusive affiliate of Luxury Portfolio, expanding their international reach to over 650 affiliates worldwide. In the 2014 REAL Trends "The Thousand" annual report, 12 Hilton & Hyland associates ranked in the top 150 agents in the U.S. by sales volume, the highest number of any brokerage in Los Angeles. With over $2.7 billion in transactions in 2015, Hilton & Hyland is recognized as the top luxury real estate firm in Los Angeles.

About Zonin 1821

The Zonin family, vintners since 1821, owns the largest private vine growing and winemaking company in Italy. Spanning seven generations of winemakers, the family produces a wide range of wines. Many of the wines are made using varietals that are native to the region in which they are grown. Castello Di Albola, Masseria Altemura, Rocca Di Montemassi, and Feudo Principi Di Butera represent ZONIN1821's flagship estates. Each estate ensures that every bottle embodies the philosophy of preserving the local winemaking traditions, land, and culture of their respective regions, guaranteeing the highest quality wines, from the vineyard to the glass.